Climate finance, Africa and China's role
Yu Ye

Shanghai Institutes for International Studies Shanghai, China
Abstract
Financing is one of the most key issues for global climate co-operation. Climate finance as an increasing part of development issues is particularly relevant to Africa as the least developed continent which is most vulnerable to the impact of global climate change. Africa needs sufficient financing to secure a low carbon and sustainable development path as well as adapting to potential damages of climate change. The reality is far from satisfactory, however, in the size, source and distribution of climate finance for Africa. China has become the second largest economy as well as the largest energy consumer and greenhouse gas emitter in the world. It is now a systematically important country in almost every aspect including in tackling climate change, in which Africa has great interest. However, China does not seem ready to lead the world in climate finance except leading by example. It is not willing to give up its position on the principle of common but differentiated responsibilities. It is increasing financial, institutional and intellectual contributions to multi-lateral institutions for climate action, but insists on South-South co-operation as complementary to traditional North-South co-operation (Ministry of Foreign Affairs, 2013).The more flexible bi-lateral channel is expected to continue to be the main platform that China can contribute to Africa's climate finance through public assistance as well as trade and investment. China is the largest trade partner of Africa and one of the largest sources of foreign direct investment (FDI) for Africa. The China-Africa relationship has been evolving from a traditional political friendship to a modern style of comprehensive and strategic partnership. With its own domestic economic transformation, China can help promote more sustainable development in Africa.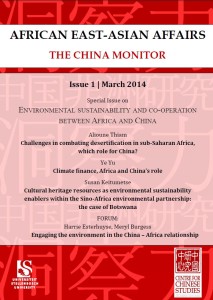 Authors who publish with this journal agree to the following terms:
Authors retain copyright and grant the journal right of first publication with the work simultaneously licensed under a Creative Commons Attribution License that allows others to share the work with an acknowledgement of the work's authorship and initial publication in this journal.
Authors are able to enter into separate, additional contractual arrangements for the non-exclusive distribution of the journal's published version of the work (e.g., post it to an institutional repository or publish it in a book), with an acknowledgement of its initial publication in this journal.
Authors are permitted and encouraged to post their work online (e.g., in institutional repositories or on their website) prior to and during the submission process, as it can lead to productive exchanges, as well as earlier and greater citation of published work (See The Effect of Open Access).
CC BY 4.0